History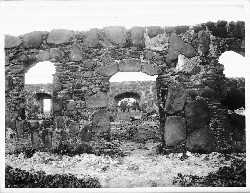 Grapes were first planted at Santa Margarita Ranch by Franciscan missionaries in 1780. We recently replanted a small vineyard in the same location as the original Mission vineyard in honor of the ranch's winegrowing history. This vineyard lies next to the "Asistencia" building, a sub-mission of Mission San Luis Obispo whose walls still stand today.
Planted by Robert Mondavi
The modern viticultural era at Santa Margarita Ranch began with the planting of Margarita Vineyard by the famed Robert Mondavi family starting in 1999. Despite the fact that there were no existing vineyards in the vicinity, the Mondavis saw immense potential in the land, and accurately predicted that its diverse soils and marine-influenced climate would deliver remarkable wines.
The vineyard was planted in accordance with the most progressive methods of the time, and was considered a model of sustainability from the outset. No oak trees were removed during the planting of Margarita Vineyard, and numerous steps were taken to preserve the surrounding natural habitats.
A Potential Fulfilled
As the vines matured, the special qualities of Margarita Vineyard were immediately apparent in the resulting wines. Nevertheless, in 2005, the new owners of Robert Mondavi Winery began to lose interest in operating Margarita Vineyard, enabling the ranch owners—the Filipponi, Rossi and Wittstrom families—to buy the original lease and to take full ownership and control of the vineyard.
The obvious potential of Margarita Vineyard ultimately inspired the three families to become vintners as well as winegrowers. The first Ancient Peaks wines were made from Margarita Vineyard starting with the 2005 vintage.
We are fortunate to be the inheritors of the Mondavi family's vision, which can today be tasted in the wines of Ancient Peaks, and which is reflected in our continued commitment to sustainable winegrowing.